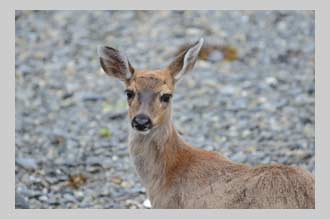 Sitka black-tails have an average life span of ten years, and the mortality rate for fawns is between 45% and 70%.[1] Severe winters are the number one threat deer face on Kodiak Island. During mild winters with moderate temperatures and little snow accumulation, the deer population increases, but a harsh winter can cause a dramatic population decrease.[4] In contrast, limited, dispersed hunting pressure seems to have little effect on deer numbers in most areas.[4] Logging in Southeastern Alaska has destroyed areas that were once prime deer habitat,[1] and logging on the north end of Kodiak Island has undoubtedly effected deer habitat and deer populations in that area.
A number of parasites and diseases have been found in Alaskan populations of black-tailed deer. Of these, lungworm is the most significant parasite, mainly attacking deer under the age of two, and normally found in areas with a very dense deer population. Lungworm disease is believed to be especially deadly in deer malnourished and weakened by a harsh winter.[4]
Chronic wasting disease (CWD), a fatal, degenerative illness that effects deer, moose, and elk populations, particularly in Colorado and Wyoming, has not yet been found in Alaska, but since the disease has spread to eighteen states and two Canadian provinces, wildlife managers are concerned about keeping it out of Alaska. The disease is believed to be caused by prions that accumulate in the brain, so since 2003, the Alaska Department of Fish and Game has conducted a CWD program funded by the USDA. Deer, moose, and elk heads, either provided by hunters or collected from road-killed animals are examined for the presence of the disease. To date, no evidence of CWD has been found in the state.[9]